Patterson Rotary Volunteer Spotlight
Thank You to All Our Monday Prep Volunteers!
The Difference Two Hours Can Make Is Clear
Monday might not be everyone's favorite day of the week – but the Patterson Rotary makes Mondays (and Tuesdays) at Second Chance Foods significantly better. Every Monday from 4:30-6:30pm, a group of volunteers gathers in the kitchen to prepare ingredients for our Tuesday cooking. These two hours are notable for a few reasons. First, the work the Monday night volunteers do makes Tuesday *so much more productive*. But, what is even more exceptional is the Monday Prep Crew is led by the Patterson Rotary! Having this dedicated group take such an engaged level of involvement and responsibility has been vital to our program. We cannot say Thank You enough!
"We walk into the kitchen and are able to jump into making soup for 300 people - it's incredible!" - Kathryn, Second Chance Foods Kitchen Manager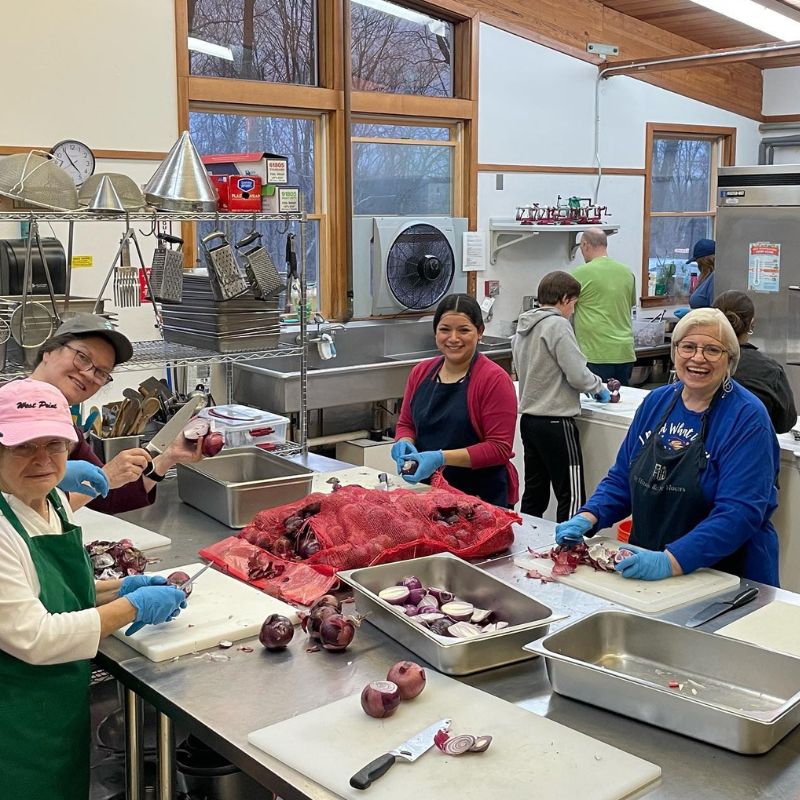 Why Prep Work is Significant Work
The preparation of washing, peeling, cutting, sautéing, and more takes a lot of the time-consuming work off the long list of work it takes to cook sometimes a thousand or more meals in one day. Especially because Tuesday is a BIG day in the kitchen to prepare all the meals for our Community Supported Nutrition boxes filled with multiple meals and distributed every Wednesday to over 300 people. When the Tuesday volunteers walk in to see 24 quarts of chopped onions, 24 quarts of chopped peppers, 50 pounds of potatoes peeled, diced, and stored in water *plus* 50 pounds of carrots already cleaned. They have an incredible jump start on the day and can get right to work cooking the nourishing meals our community needs. 
The Patterson Rotary Partnership
Like all Rotary Clubs, the Patterson Rotary looks for ways to serve their community in ways that are meaningful to members – and those members love to feed people! Years ago, our Executive Director took some time to present to local clubs and spoke to the Patterson club about the work of Second Chance Foods. One Rotarian, Madelyn, remembers how the whole club was in awe of the program. "Who would've thought that taking food that was going to expire, or too many onions (hahaha) that might need to be thrown out, or a few cans that had labels that had peeled off could help so many people?" She then recalls the moment that led to the Patterson Rotary's involvement. Bob Dumont,  who ended up managing this partnership for years, asked the essential question, "How, as a club, can we help you?"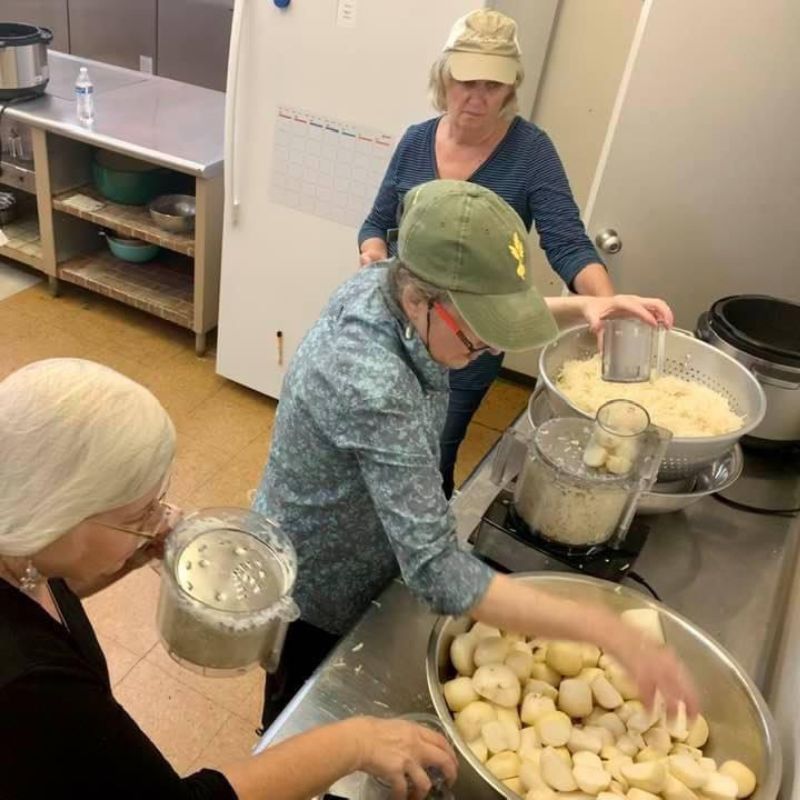 Instead of responding with a simple request for funds – Martha asked for some help setting the kitchen up for success. At the time, she was the only employee and ran the cooking days, the food donation intake, volunteer recruitment, fundraising, and *literally* everything else. The idea of consistent help she didn't have to manage sounded too good to be true! Thankfully, the Patterson Rotary jumped at this opportunity to use their ability to organize and take on the task of Monday Night Prep. 
The Monday Night Prep Crew
For years now, every Monday night is staffed with a group of 4 or 5 Rotarians, the friends and family they recruit, and additional volunteers who sign up from the Second Chance Foods Community. Each week of the month is led by a different Rotarian – a perfect example of how they use their small size to create a greater impact.
"This is an easy, no-stress, and fun way to do something good for the community. And it's a fun couple of hours spending time with like-minded people and I also find it therapeutic." - Monique​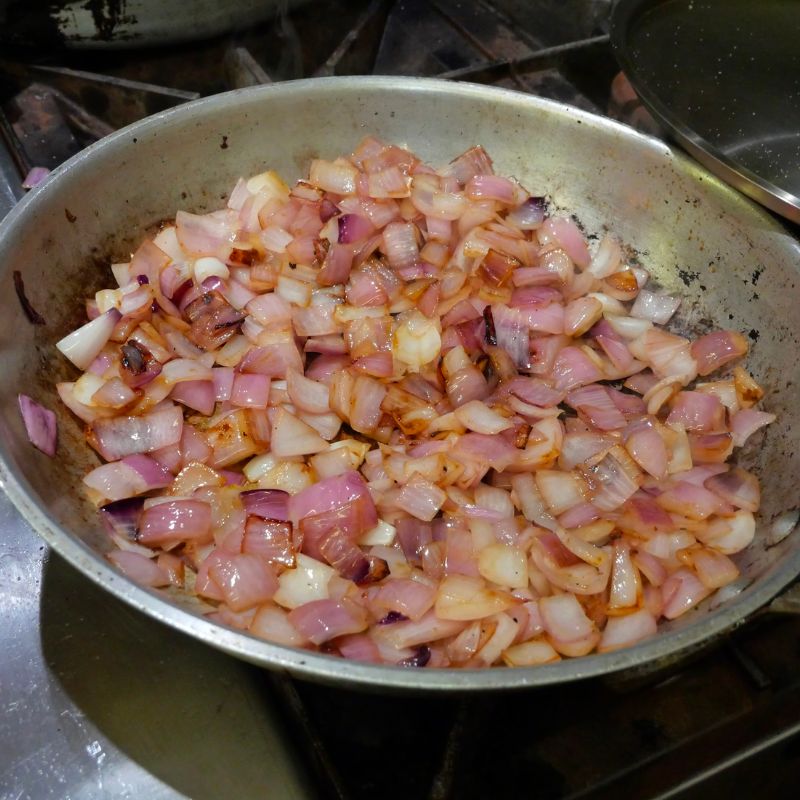 The Monday Night Prep crew might not be for the faint of heart – or rather – the faint of onion? The majority of the work they do is related to preparing vegetables. And a big part is peeling, chopping, and cooking down onions. Impressively, no one seems to mind; by now, it's an expectation and understanding that onions are always on the table…and waiting for them. A task everyone the next day *greatly* appreciates and not only because it saves them the smell.
An Easy Way to Give Back & Build Friendships
One thing is for sure, and that is that the Patterson Rotarians love their Monday nights. .Another core volunteer who leads one Monday a month said that not only is the experience memorable because of how gratifying it is to prep food for others, but the consistent group has formed its own smaller community that she looks forward to.
"Meeting different people while sweating in the kitchen in July and freezing our feet in February has been amazing. My Monday night crew has been doing it for a few years and now knows all about our children, pets, vacations, and the other daily activities that create the bonds of friendships. When I was out of town and missed my week, I had to catch up on all the 'gossip' over chopping the next month!" - Madelyn.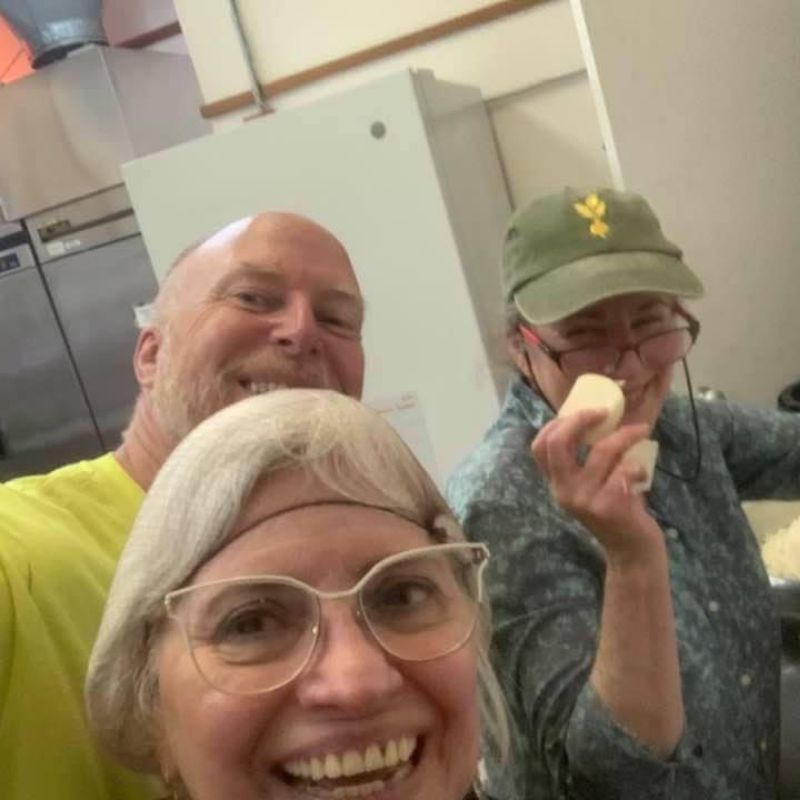 Experiencing Food Waste - First Hand
We've learned through the years that everyone perceives food waste and hunger relief differently. A common reaction from our first-time volunteers is how working with recovered food has changed their understanding of food waste. We were touched to hear that the experience of working in the kitchen has impacted the Rotarian volunteers as well. 
We're so grateful to hear from the Rotarians that volunteering with Second Chance Foods has impacted their lives and furthered our mission of reducing food waste. One of the Rotary Directors, Monique, who has helped coordinate volunteers with Second Chance Foods, said, "I try to avoid discarding food as much as possible now. If I can give it to someone, I really try to do that." 
"When you see that the "ugly duckling" vegetable works just as well in preparing truly impressing meals it changes your view of them. - Billy, Patterson Rotary
Join the Fun - It's Not *just* for the Rotary!
Do Monday nights sound like a fun way to give back? The Patterson Rotary is our dedicated leader for this night, but the opportunity is open to anyone interested in helping. Sign Up to join them.  
It's fun and easy! Do it once or do it once a month, bring a friend or make new ones with us – it's only two hours!" -Billy (Patterson Rotary Lead Volunteer w/ Second Chance Foods)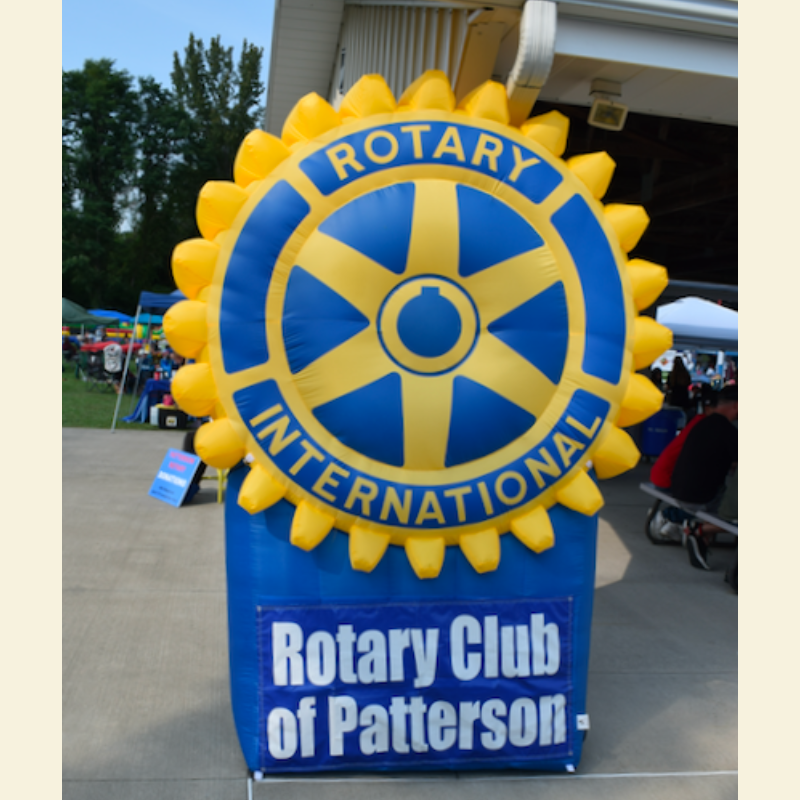 Even More Ways to Get Involved with the Patterson Rotary and their Work
If you love to volunteer or get involved with organizations like ours, joining the Patterson Rotary might be a great fit for you to expand your community service! They welcome anyone to join their meetings – the 2nd and last Tuesday of each month at The Putnam Diner & Restaurant. In addition to their work with Second Chance Foods, the Patterson Rotary has partnered with the Putnam CAP and Pawling Resource Center to further their work addressing hunger. They're always looking for ways to help including picking apples for food pantries, baking pies for Thanksgiving (last year they made 100 Apple Pies!) and making dozens of Thanksgiving "meal-in-a-box" for local families to prepare for themselves and their families. 
Save the Date for some incredible Patterson Rotary Events Next Year – all complete with delicious food because the Patterson Rotary really loves to feed people! Learn more at the Patterson Rotary's Website
Men Who Cook April 27, 2024  

Touch a Truck June 8th 2024

Blues & BBQ September 14&15 2024
Want More news, updates and more ?
Make sure to sign up for our email list and get weekly Volunteer Opportunities, Recipes, Education Articles, and Special Spotlights delivered directly to your inbox!