About 30 volunteers gather weekly at St. John's the Evangelist Catholic Church and pack over a hundred bags of non-perishable food to distribute to the community. Fresh bread, eggs, meat, and other perishable items are added the morning before the food is passed out. On Friday mornings, volunteers deliver bags directly to people in their cars, a COVID precaution that carried over because it created a better system for distribution.
Since 2019, Second Chance Foods has been happy to provide fresh produce every week to add nourishing fruits and vegetables and occasional meals to the recipients of St. John's just before the Pantry opens. This makes it easy for St. John's volunteers to immediately distribute the produce to their recipients without having to freeze the food or meals.
"It has been extremely helpful that they're not only getting canned goods but fresh produce. The only other time we get other fresh items is from a day after our monthly deliveries so Second Chance Foods has been very, very helpful." - Ed Welch, St John's Food Pantry Operating Director.
The numbers St. John's serves vary based on the time of year between 100 and 170 families – every week. The Pantry is always open on Friday mornings with only two exceptions – the week of Thanksgiving, they switch to Wednesday, and if Christmas dates fall on Friday or Saturday, they ensure volunteers can be with their families. Ed said they tried to close for a snowstorm once, but even after making radio and social media announcements, about 50 people showed up! Thankfully, Ed and another volunteer did, too. They made it work because, as anyone who helps alleviate hunger knows, continued services are crucial to those who depend on support to feed their families. 
Take a look behind the scenes! Our Executive Director was so impressed with the amount of food waiting to be distributed last Friday.
More About St. John's Food Pantry
St. John's Food Pantry has been a longstanding source of food assistance in Mahopac since the early 1980's. It's supported by the generous parishioners of St. John's, Catholic Charities, and additional community support. They provide weekly supplemental food but also help in other ways throughout the year. Like backpacks with back-to-school supplies, gift cards for holiday turkeys, and sometimes additional outreach from Catholic Charities to help people sign up for SNAP benefits and other social services. 
Ed Welch, the Operating Director of the Pantry, says they include about 3 days worth of food in the bags, which are adjusted for the number of people, allergies, or dietary restrictions. To do this, they receive between 15,000-17,000 pounds of food every month! 
Second Chance Foods and St. John's Combined Impact
Second Chance Foods helps by providing around 600 pounds of food per week, and we're expecting to donate nearly 34,000 pounds of fresh, nutritious food and over 3,120 meals to St. John's in 2023. We even have a volunteer who harvests our pantry garden specifically on Friday's for the fresh goodies to go to St. John's!
St. John's always welcomes new volunteers to help unload the truck on Thursdays or hand out food on Friday mornings. If you're interested in volunteering, reach out to Ed at Welch.Edward.J@Gmail.com or follow them on Facebook to see posts for volunteers or special drives for in-kind donations.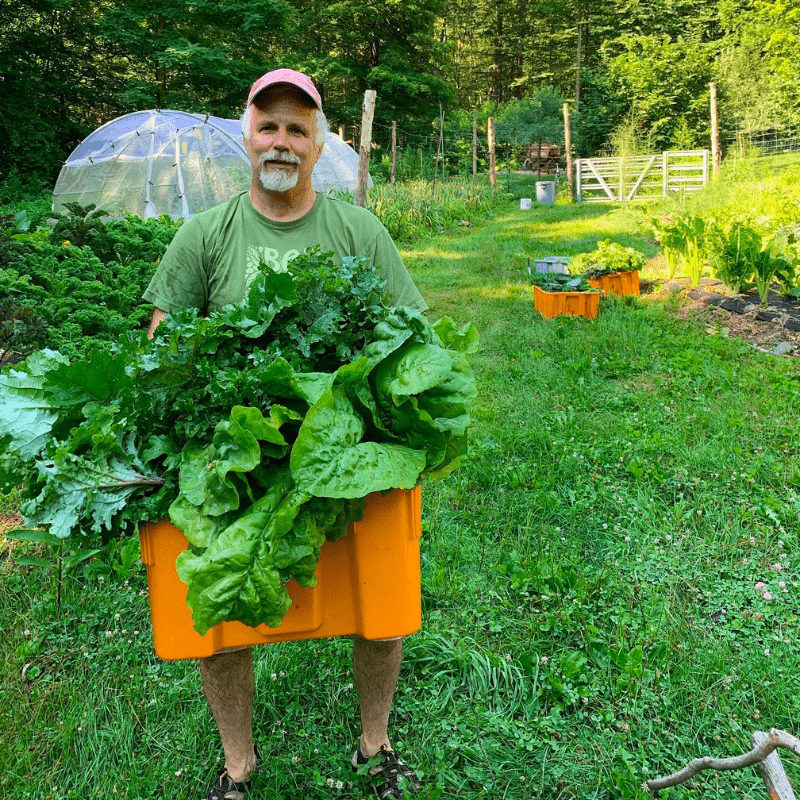 Ed is always excited for new volunteers and collaborating with organizations like Second Chance Foods because "the more community involvement, the better! The more people helping means more people are aware and have ownership of the problem and creating the solution." We couldn't agree more! Second Chance Foods loves having multiple options for people to get what they need, when, and where they need it. 
Thank you, St. John's for serving the community for over 35 years!
Want More news, updates and more ?
Make sure to sign up for our email list and get weekly Volunteer Opportunities, Recipes, Education Articles, and Special Spotlights delivered directly to your inbox!