Welcome to Second Chance Foods
Thank you so much for signing up to volunteer with us. Please review the materials prior to your first shift and let us know if you have any questions.
Joining us in the kitchen?
Please watch this video to see information about parking, sign in, safety protocols, and more! 
Questions about volunteering?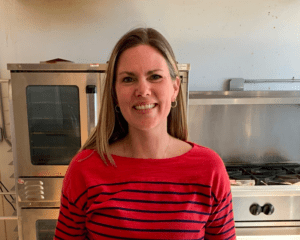 Heather Marinelli
Volunteer Coordinator
Contact Heather for more information about volunteer positions, group opportunities, and more!
"Volunteering with Second Chance Foods is a place to do good work and be a part of an authentic community of people. There are so many different ways we know you'll find a meaningful connection. Even if you've never volunteered before there is a place for you and a way to get involved using your gifts, talents, and time – just ask me how!"