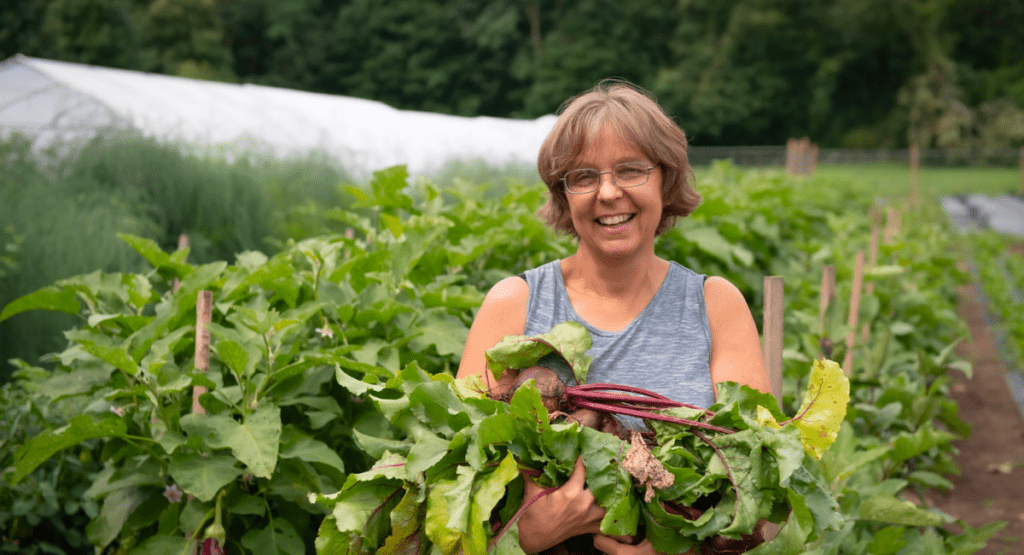 Co-Founder Jean Rambusch McGee
On Bringing Dignity to Hunger Relief
And How a Little Bit of Heart Goes a Long Way
Last week we shared Alison's story and her inspiration to start Second Chance Foods. Shortly after she was moved to take action, Alison called Jean Rambusch McGee, a friend from her homeschooling network, to see if she wanted to help rescue food and develop the nonprofit. Jean was thrilled to join the cause, and together they worked to create Second Chance Foods, later adding Martha Elder as the third board member (More about Martha's journey from founder to Executive Director and her vision for our future next week!)
"I was still working, so I wasn't sure how much time I had to give, but I knew I had the heart to put into it." -Jean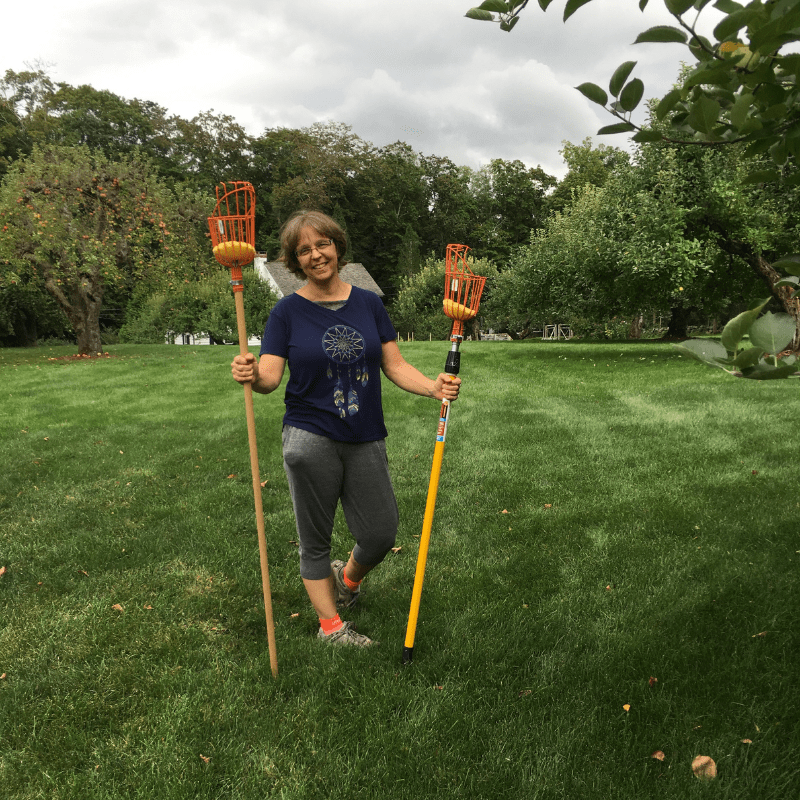 Jean has always been passionate about environmental, nutrition, and social justice issues. She also has past experience needing food assistance. In the 90s, while raising her children, Jean and her family used government food benefits to help feed her family. "While I was grateful for this assistance, I intimately understand the need to uphold dignity for the recipients. I was shamed by others in public, and I understand the fear of not knowing how I could provide healthy food for my kids. I am most proud of how SCF can supply these healthy food options that were non-existent when I was in need." 
That's why one aspect of Second Chance Foods that Jean is particularly proud of is the love and dignity that goes into our services. "We talk a lot about treating people with dignity and respect and ensuring that shame isn't there. We don't ask people to prove their need; we trust them."
Volunteering Wherever Needed
Over the last seven years, Jean has stayed involved with Second Chance Foods in almost every way possible. Originally, Jean would go to one grocery store to pick up whatever they had and get it straight to one of our food pantry partners as they set up. She had to time it right because Second Chance Foods didn't have *any* food storage yet, and most of the food pantries had limited space. When the meal program took off, Jean helped cook every Tuesday and Friday for the first four years until transitioning to farm pick-ups and gleaning. Jean would take on what she could to help as different needs arose. Last year, Jean gleaned every Monday from one of our private farm partners.
"It became a healing practice for me to get outside while still helping people. I'd go to his farm every week, even if it was raining, and take everything back to the kitchen." -Jean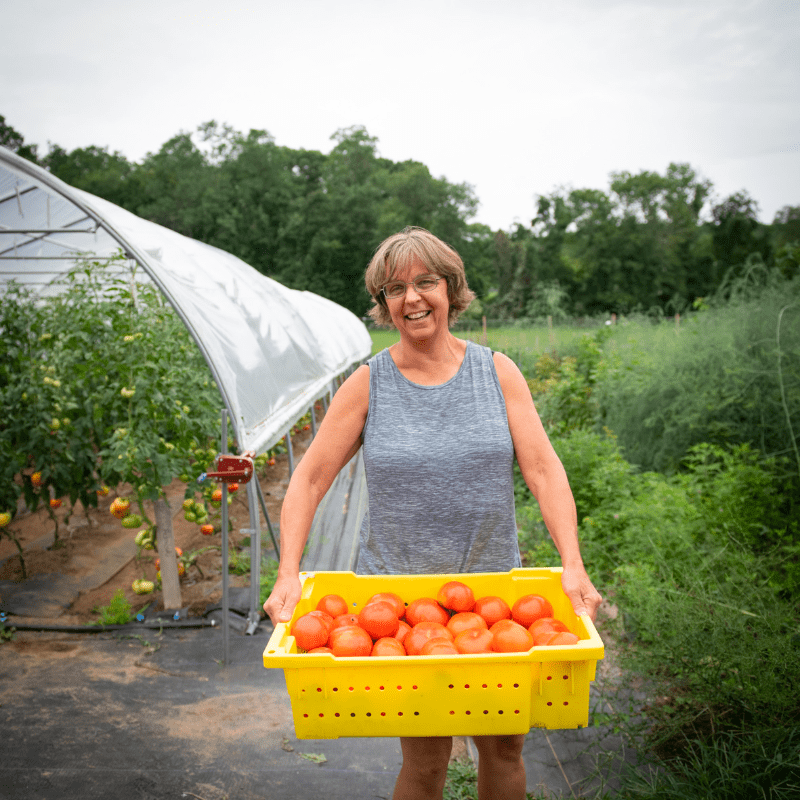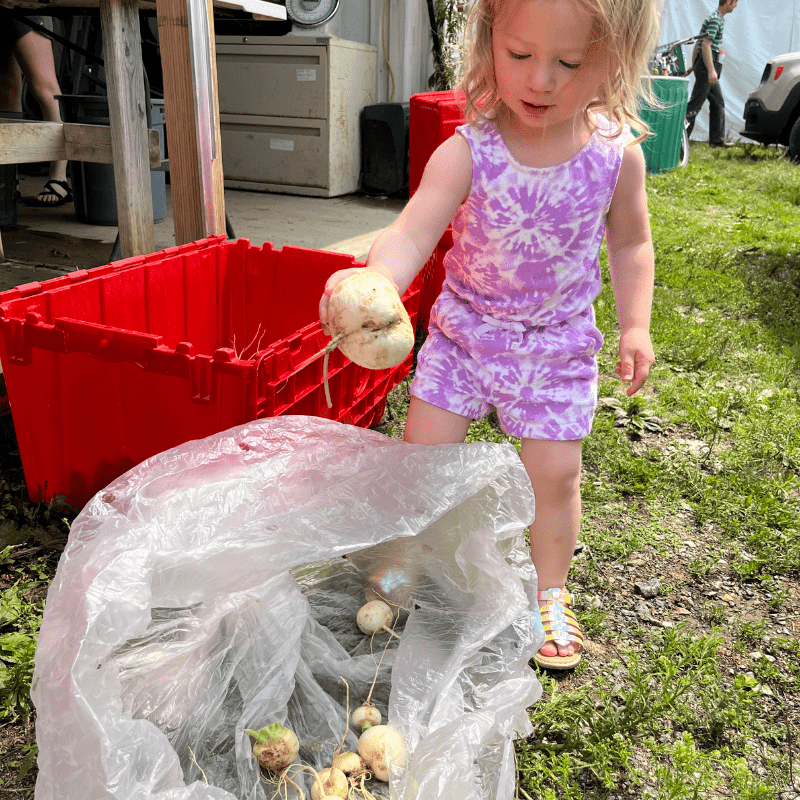 From there, Jean started picking up food from Glynwood, which she continues to do and is her favorite. Due to scheduling conflicts, she can't help glean at Hilltop Hanover on Mondays anymore but loves the opportunity to get back to the farm, especially Glynwood. She even gets to share the experience with her 2-year-old granddaughter sometimes!
"It's a lot of driving to pick up the food, take it to the kitchen, then return the farm bins, but it's worth it. It's so beautiful up there and a place where I feel like I can breathe." -Jean
Jean has a background in physiology and nutrition, ran a food Co-Op for 27 years, and served on the board of Something Good In the World, a nonprofit that provides experiential outdoor educational programs and resources to children of all ages. She is the Second Chance Foods Board Secretary and as a volunteer feels blessed with the opportunity to get her hands dirty on so many different farms and give back to the community. She would love to see Second Chance Foods "go out of business" because everyone can access healthy food. But, until that day, she hopes we can raise enough funds and grow our capacity to connect more people with nourishing meals and fresh foods. 
"I love volunteering with Second Chance Foods because I love knowing less people are going to bed hungry." - Jean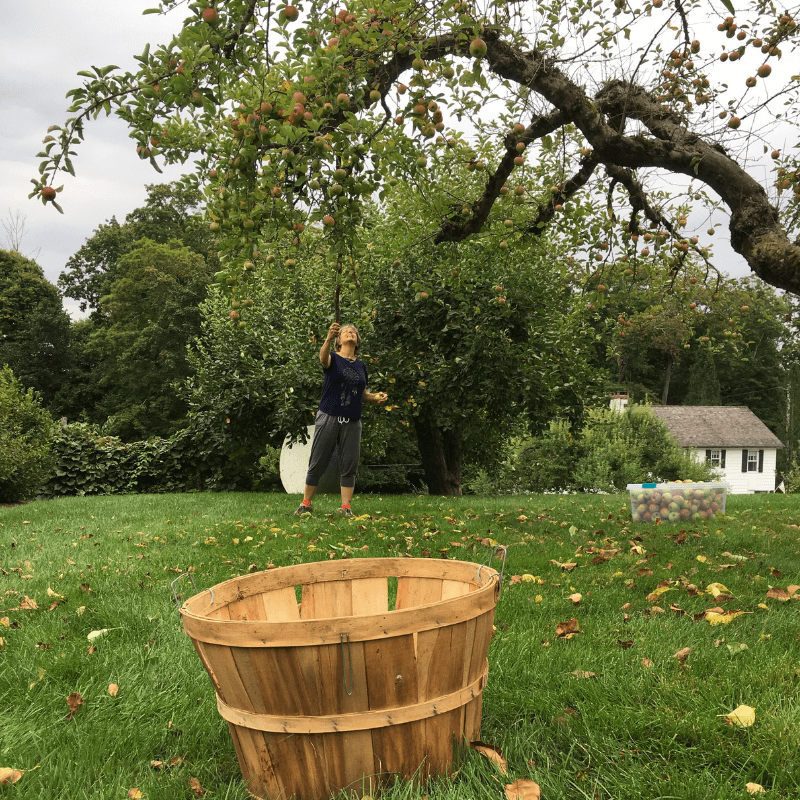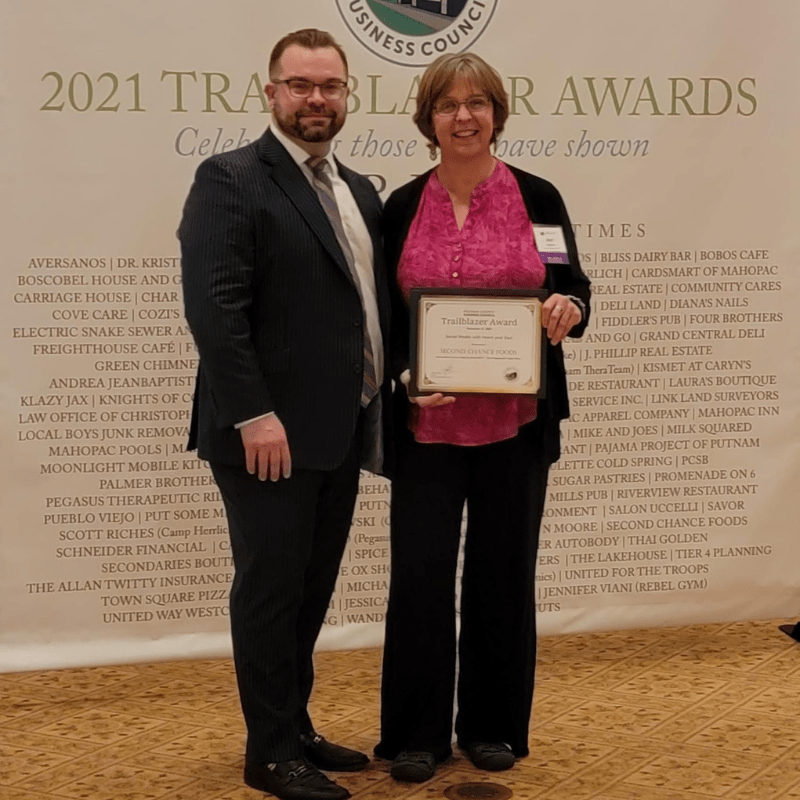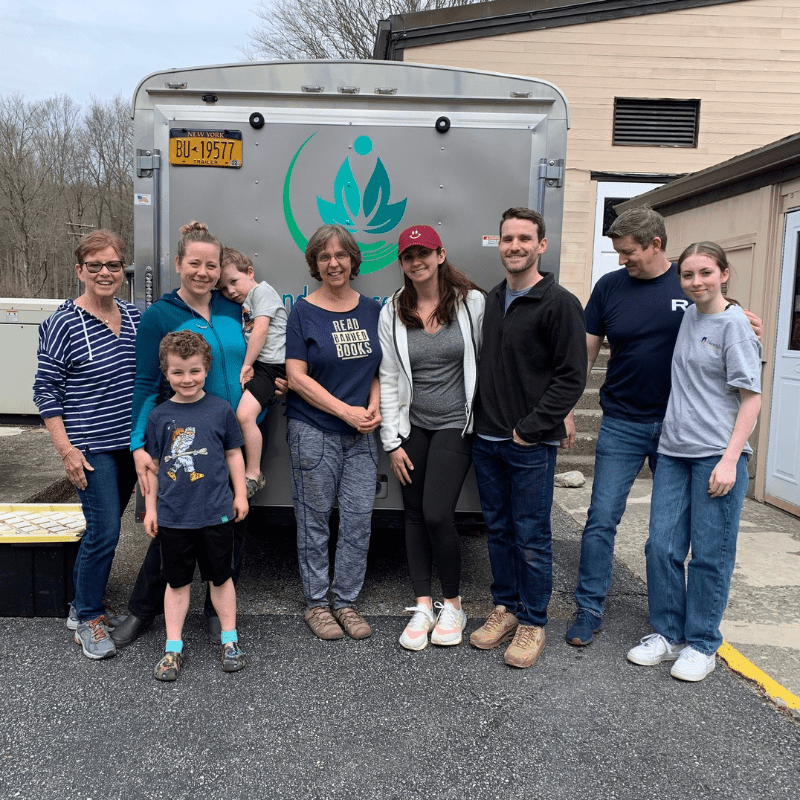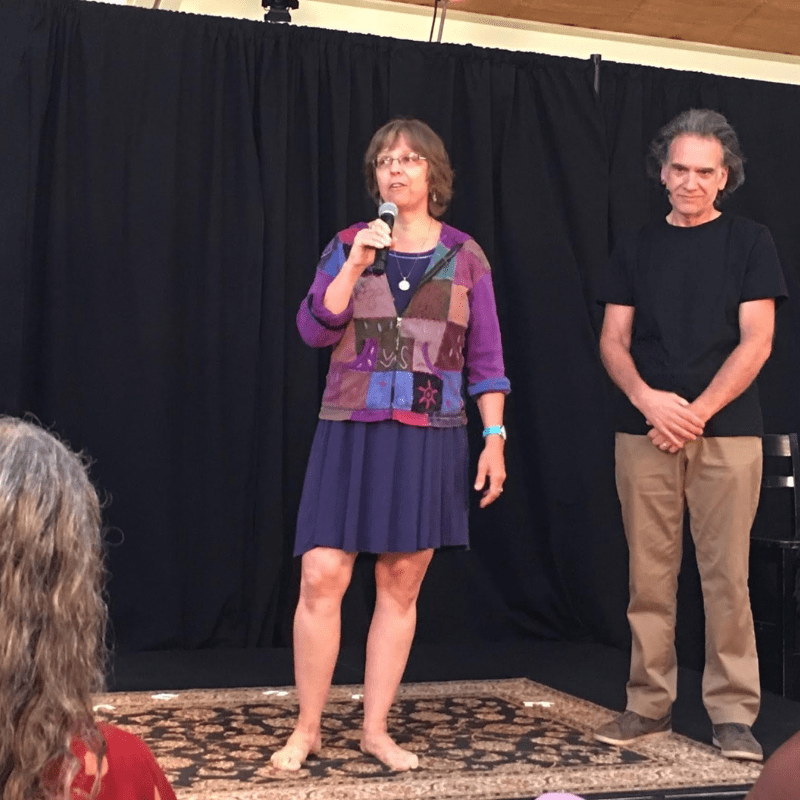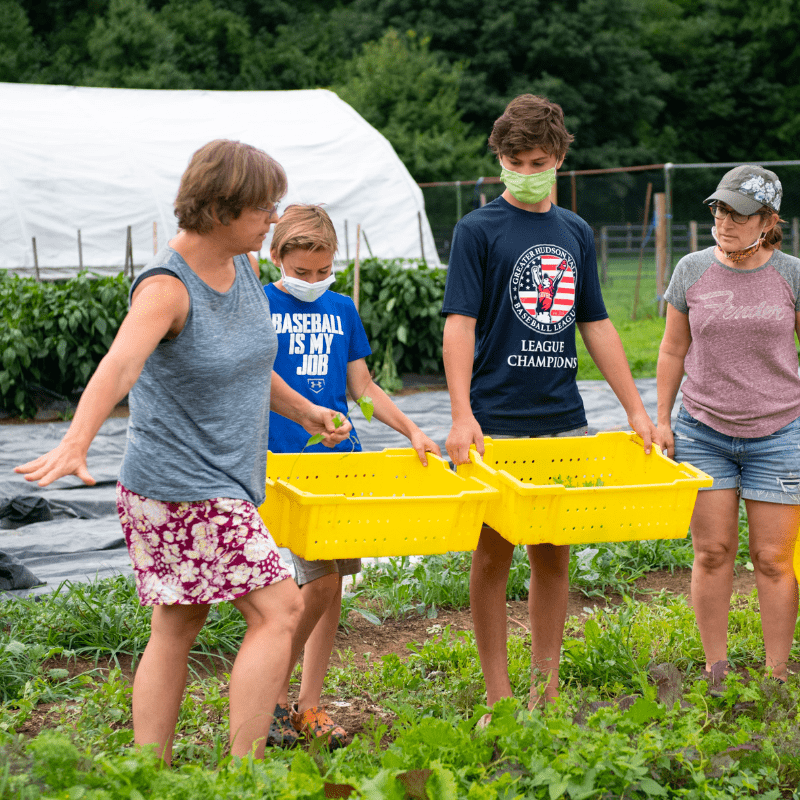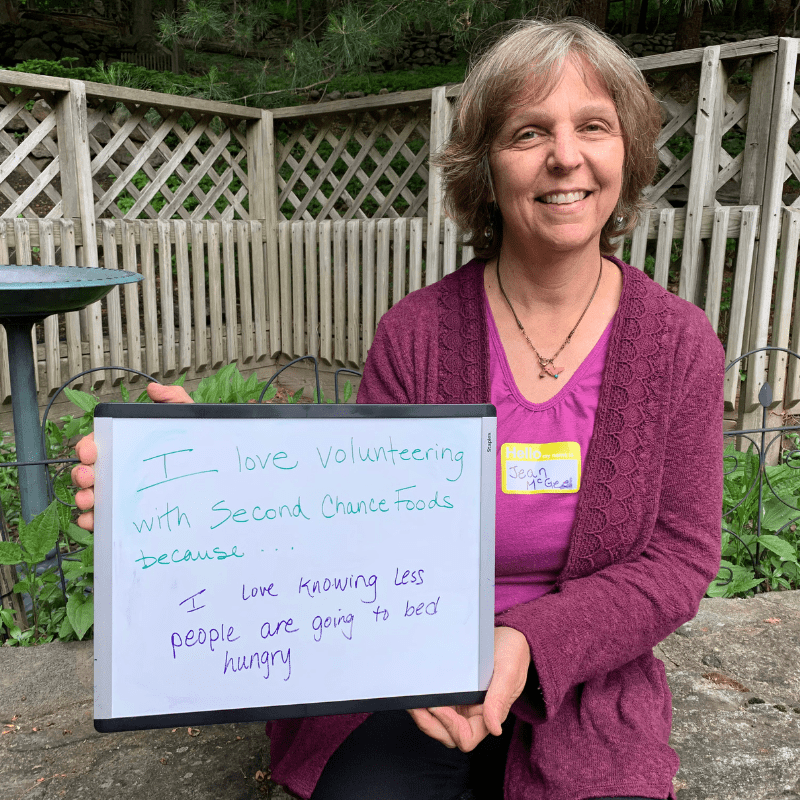 Not everyone can volunteer every week, but you can still make a difference! One thing our founders know is that when you join together with passionate people who care about the community amazing things can happen. Will you join us in food justice by making a donation, giving time, or spreading the word?
Purchase an item off our Amazon Wish List to help our growing operations!
Share this post with a friend or on your social media to raise more awareness. 
Join a community of like minded people who care about food waste, hunger, and the environment.
Make Change At Home with our guide for reducing food waste in your own kitchen.
Thank You, Jean
and Thank You, to everyone who purchased a gift, donated, or shared our story with others. Stay tuned next week when we look to the future of Second Chance Foods and how your support connects more food with our community!
Want More news, updates and more ?
Make sure to sign up for our email list and get weekly Volunteer Opportunities, Recipes, Education Articles, and Special Spotlights delivered directly to your inbox!