We are an all-volunteer food rescue dedicated to helping communities throughout Northern Westchester County, Putnam County and Southern Dutchess by connecting food donors and agencies serving people in need.
There are four main ways to volunteer:
– Completing food rescue runs.
– Gleaning produce at farms
– Helping in the kitchen with our "Farm to Food Pantry " project.
– Onboard stores near you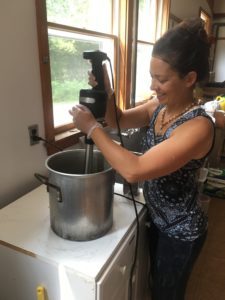 FOOD RESCUE RUNS
Volunteers rescue good, excess food from supermarkets, farms and farmers markets and immediately deliver it to nearby soup kitchens, food pantries, and homeless shelters. Most food rescue runs take about an hour and are done using your own car.
FARM GLEANING
Help harvest excess and "seconds" produce from local farms. This produce will be processed in our licensed kitchen.
FARM TO FOOD PANTRY
During the growing season we use rescued farm produce to create delicious, nourishing food in our licensed kitchen in Brewster, NY. Food pantries then distribute this food to their clients. In the kitchen, you can help clean, chop, cook and package the food. For more information on how to become a Second Chance Foods volunteer, fill out our volunteer form. We appreciate your interest.
ONBOARD STORES
We are only as helpful as the food we can give a second chance to. We have created a letter for you to take to any places which you think should be participating in our program. Get The Letter HERE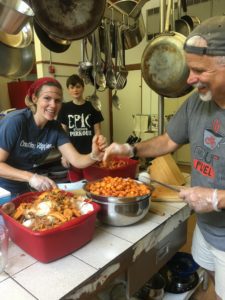 Volunteer Quotes:
As a homeschooling mother of three, I'm always looking for learning opportunities and meaningful ways to connect with our community. Second Chance Foods fits the bill with my 12-year-old son because he can be a part of a team and support that team, rescue food that would otherwise be lost, and most importantly, bring a nourishing meal to those in need. That's what good community building is about, coming together, solving problems, and providing help where needed. These are the lessons I want to teach. This is what happens with Second Chance Foods and I get to have a date with my son – it's a win-win.
Arlene Figueroa
I'm so happy to be able to serve with Second Chance Foods!  It's so many wins at once for me:
*I get to bring my kids into the kitchen (creating a life-long service attitude);
*to prepare unsellable food (saving nutritious food from landfills);
*and make healthy meals for others in need (feeding the hungry);
*while cooking with others in a communal spirit (community building).
SCF is bringing awareness and solutions to a global epidemic of food waste and poor nutrition among our neediest people. It's a most rewarding use of a few hours.  Get in the kitchen!
Heather Marinelli
For the past year I've been picking up food from Foodtown in Croton and delivering to a soup kitchen in Peekskill.  2nd Chance, Martha and Alison, have organized this so well the exchange from sitting on shelves to feeding hungry people is about seamless.  It's remarkable how much food is discarded daily (much to the dismay of Foodtown) and the level of hunger close to home.
What I appreciate most is the simplicity of the operation.  No admin or political blockers — very effective.
Kyle Trip